Corfu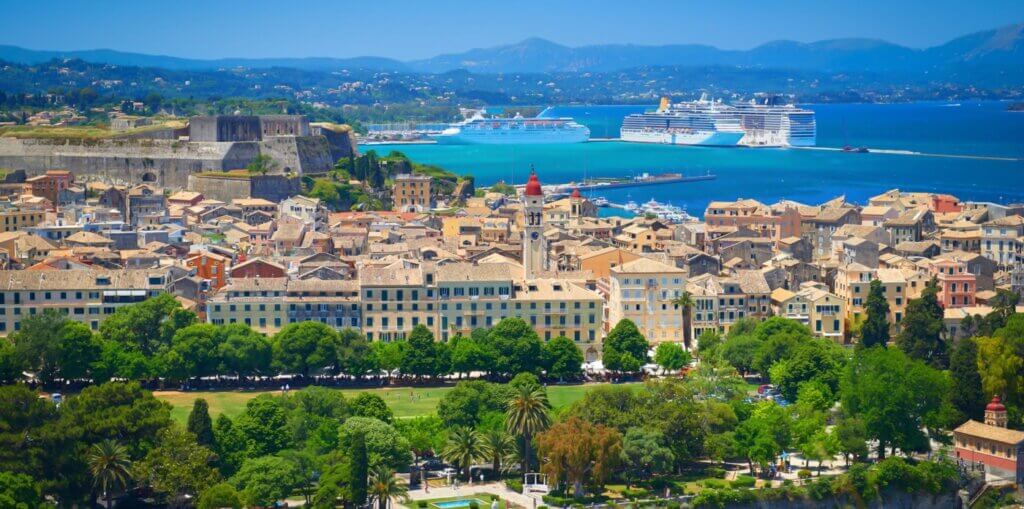 Corfu Town, clandestine "capital of culture" of Greece, is picturesquely flanked by two fortresses, and is surrounded by numerous lagoons. Not just home to several museums and churches, Corfu Town also offers a beautiful historic centre that invites you for a stroll or an afternoon of shopping. In 2007 the historic centre of Corfu was added to the list of Unesco World Heritage Sites.
Popular sights
The Achilleion: a palace in Pompeian style, ordered to build by the famous Elisabeth (Sisi), Empress of Austria who considered Corfu to be her "most favourite island". In 1907 the palace was bought by Emperor Wilhelm II.
Pontikonisi

("mouse island") and the monastery island of Vlacherna

Castle "Mon Repos"

, situated near the historic centre on the peninsula "Kanoni", where Philip Mountbatten, Duke of Edinburgh was born in 1921.

The northern coast with its sandstone cliffs near Sidari and Peroulades
Climate on Corfu
During summer season, from May till September temperatures can change from 23 till 36 degrees and it doesn't rain a lot. Very often there's a fresh wind called maestros in all Corfu. This wind starts normally in the afternoon and follows a North-South direction. We suggest you to avoid Corfu town during the hottest hour of the day, while it is very nice to visit it during the evening.